My clients have included marketing firms, businesses, and nonprofits — local, national, and international. I deliver top-quality copy for marketing websites, articles, brochures, email campaigns, courses, and more.
I've worked in many spaces, including homeownership, green building, addiction, systems change, publishing, personal development, and social services.
Framework Homeownership | the Keep app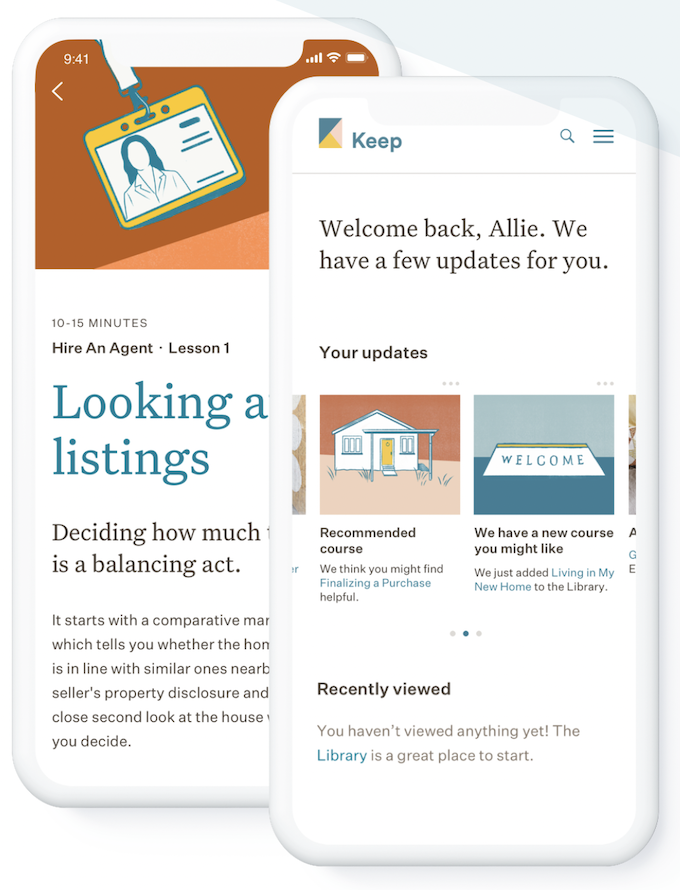 Framework is a social enterprise that advances homeownership through education. The Keep app empowered people to educate themselves about the buying process and manage the responsibilities of ownership.
I wrote both the homebuying course and the library of 50+ supplemental articles. 
Between the Keep app and Framework's earlier online course, my clear, concise writing has helped more than 1.4 million people buy their first home with confidence.
Live writing samples from the library of articles, now housed at Framework's website:
———
Framework Homeownership | online course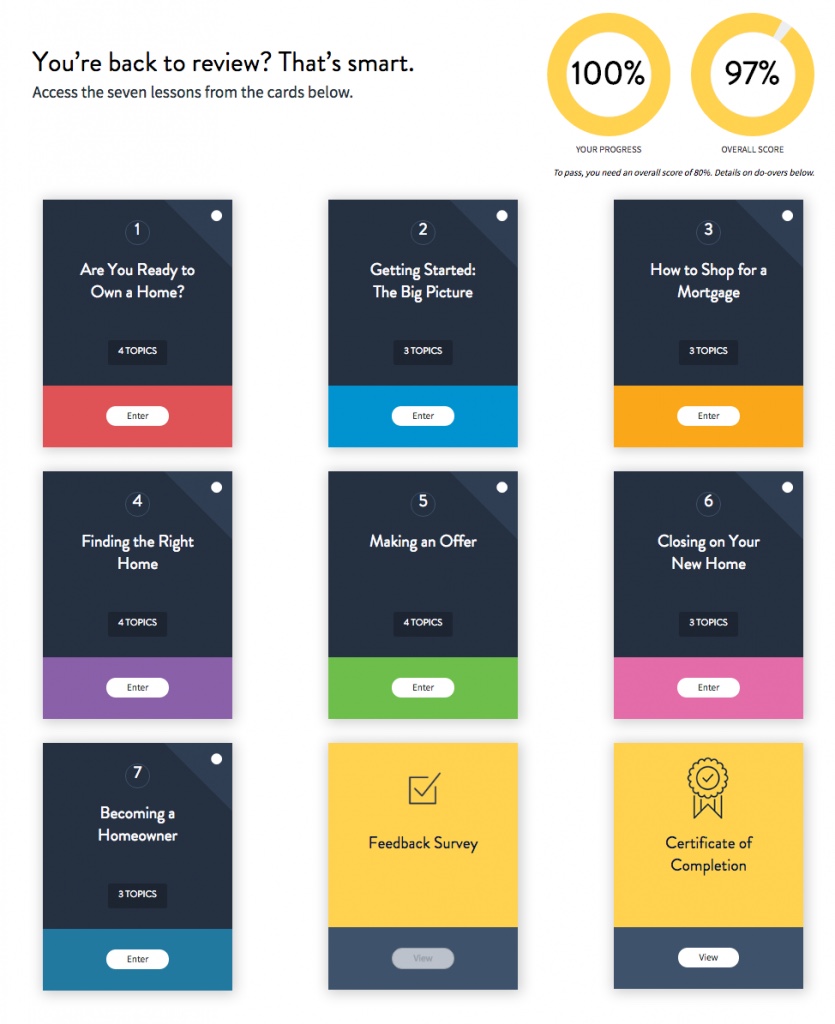 When Framework decided to upgrade its original online course for homebuyers, they asked me to rewrite it. Several years in, 95% of customers said they were satisfied with the course.
I worked closely with Framework's housing experts while bringing in the casual, confident, peer-to-peer tone I'd been developing for the brand in other contexts. The job included scripts for seven short videos. 
———
Framework Homeownership | messaging and website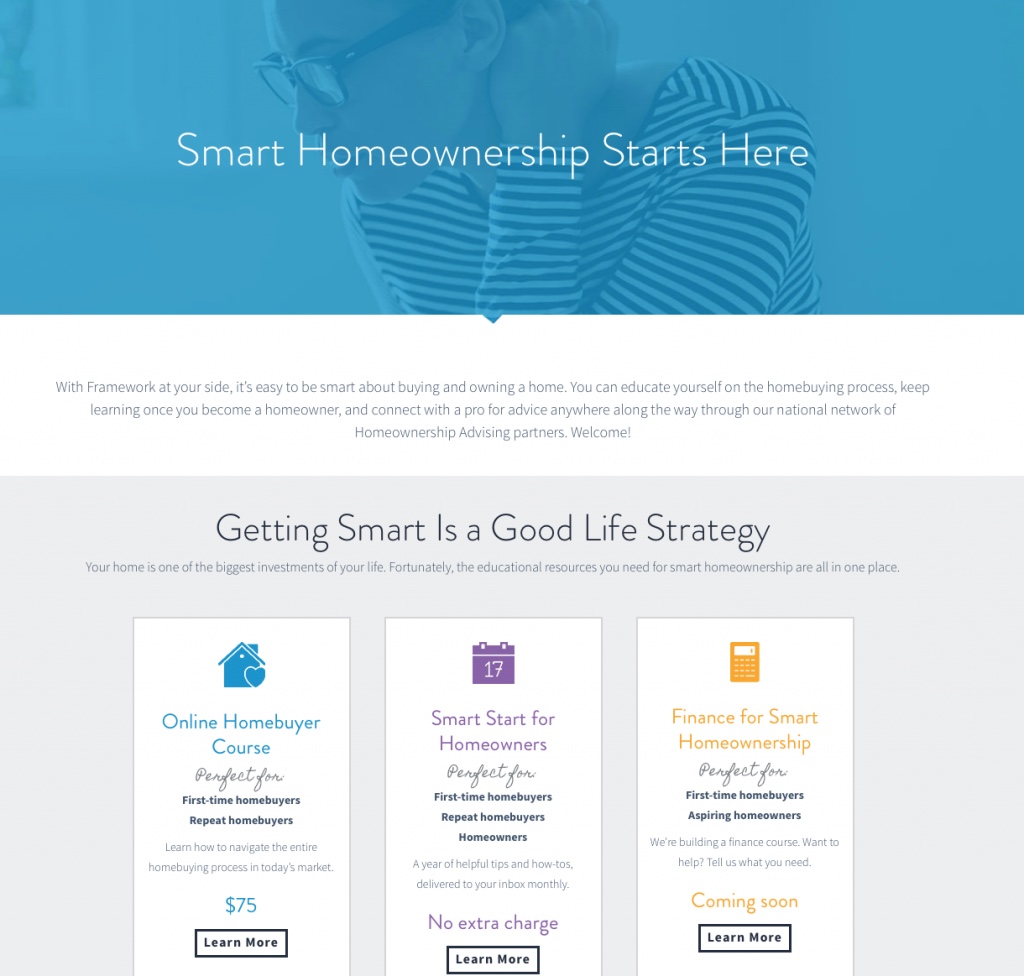 When Framework entered its first big growth spurt, I helped articulate new brand messaging, developed a voice suited to the millennial audience, and wrote primary copy for the new website pictured here.
Subsequently, I also wrote B2B campaigns, press releases, and loads of blog content.
———
Reos Partners | messaging and website

Reos Partners is an international social enterprise that helps people make breakthroughs on their most important and intractable problems. Using a systemic, collaborative approach, they partner with governments, corporations, and civil society organizations on education, food, energy, the environment, development, justice, security, and peace.
For this new website, I worked with team members on five continents to update their primary messaging and tell their story. I lifted the headline from comments Nelson Mandela made in praise of Reos Director Adam Kahane's book Solving Tough Problems.
Subsequently, Reos asked me to write six themed essays highlighting their methods and their successes to feature on their home page.
———
Academy of Music Theatre | capital campaign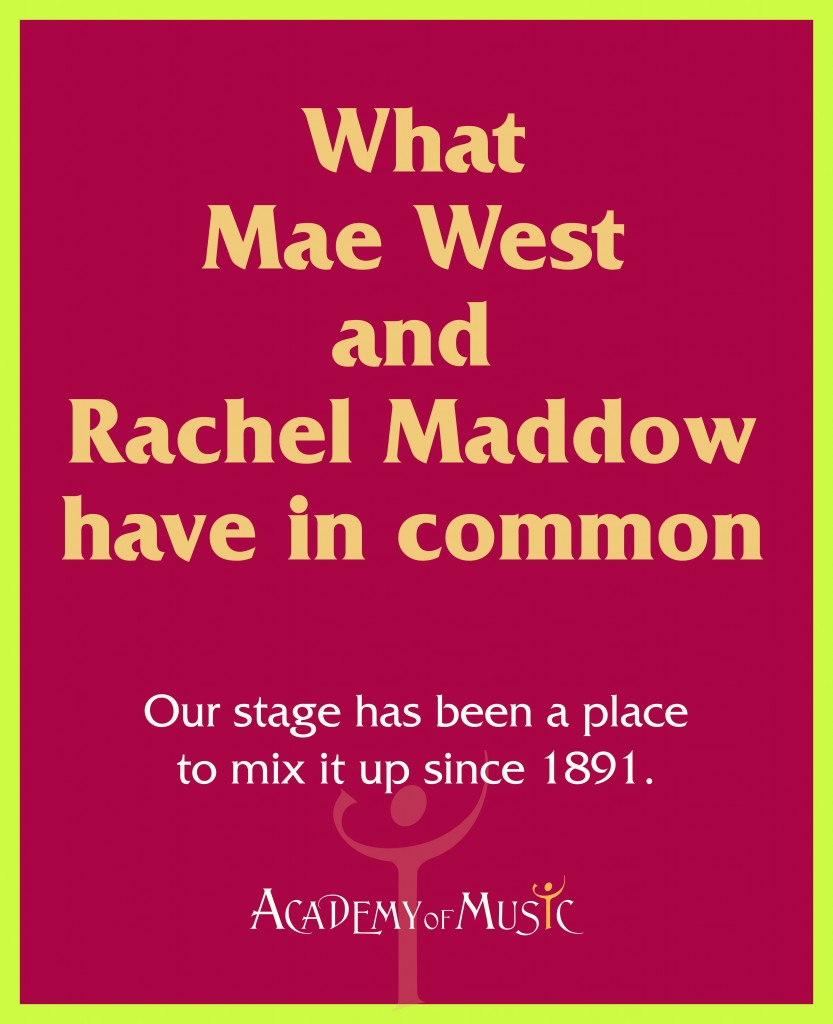 The Academy is a turn-of-the-century theater that anchors the historic district of downtown Northampton, MA. When it needed new seats, paint, and gilding, it undertook its first-ever capital campaign.
This is one of a series of posters I wrote that stoked local pride by highlighting the striking variety of performers and personalities who have taken the Academy's stage. Others paired Houdini and Miss Trans New England, and Rudolph Valentino and Dave Brubeck.
The capital campaign exceeded its goal, and the theater was restored to its full grandeur.
———
Baystate Academy | messaging and website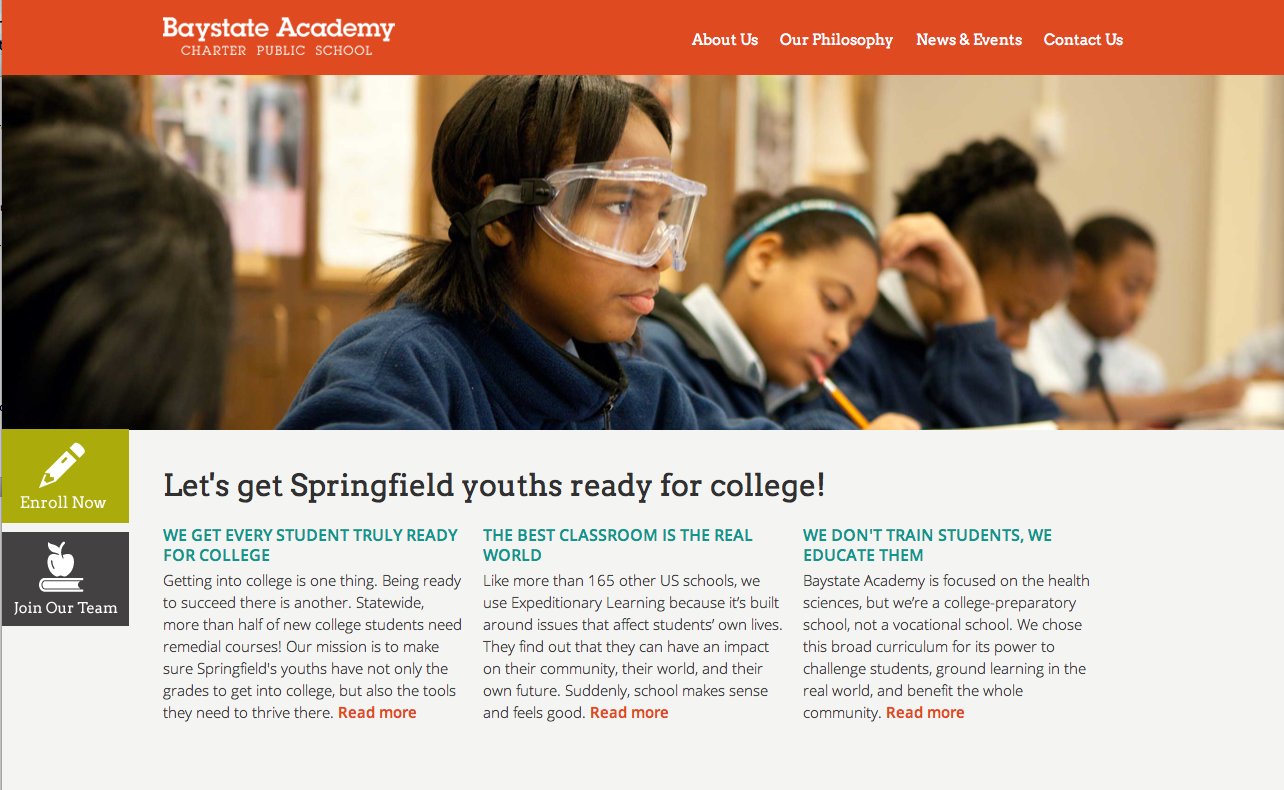 A brand-new school in Springfield, MA, Baystate Academy Charter Public School needed basic branding and a website before it could start enrolling its first students.
First, I facilitated a "branding lite" process to help the new principal and diverse community members agree on primary messages, vocabulary, and tone. I then wrote a copy platform for everyone's approval. The final copy flowed easily from there. I struck an educated tone while using simple language that would be effective across an audience of varied ethnicities and reading levels. 
The Gravity Switch site won two awards.
———
Berkshire Choral Festival | website
Based in the Berkshires of western Massachusetts, this nonprofit brings an immersive, professional-level choral experience to amateur singers. During vacations around the world, singers rehearse with an eminent conductor for a week and then perform in a full symphony concert.
I worked closely with web developer Pilotmade to create a new website. Job one: bring the multitude of glowing testimonials to the surface. This was a rare case in which more copy was better: I did some fast research on the vacation destinations, adding color and links that would engage both new and veteran singers.
———
CHD | annual report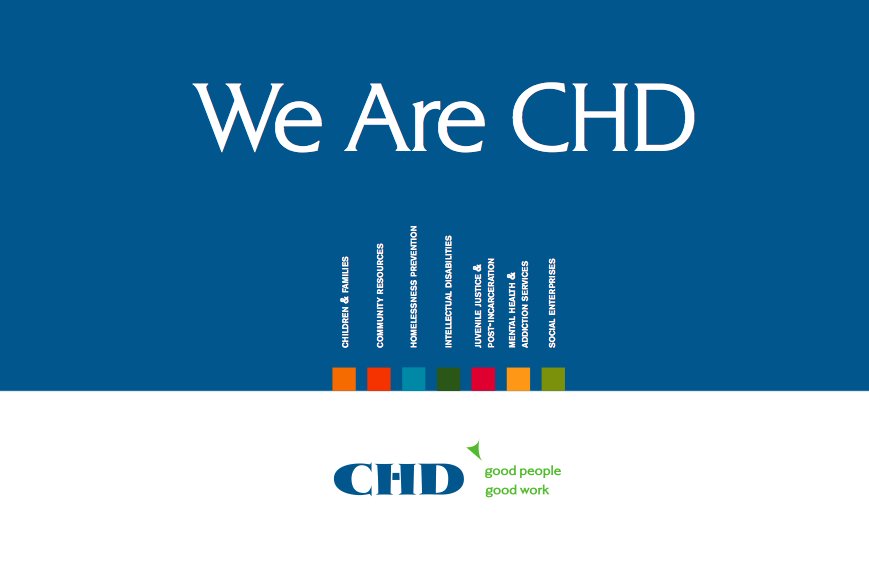 CHD, a large human services organization, had just rebranded. The annual report introduced the new look to the public, and CHD wanted a new tone to go with it.
I tapped an existing positioning study for on-brand headlines, and I cut back on the usual annual-report jargon to create a more readable and persuasive piece.
———
NVC Mediation | messaging and website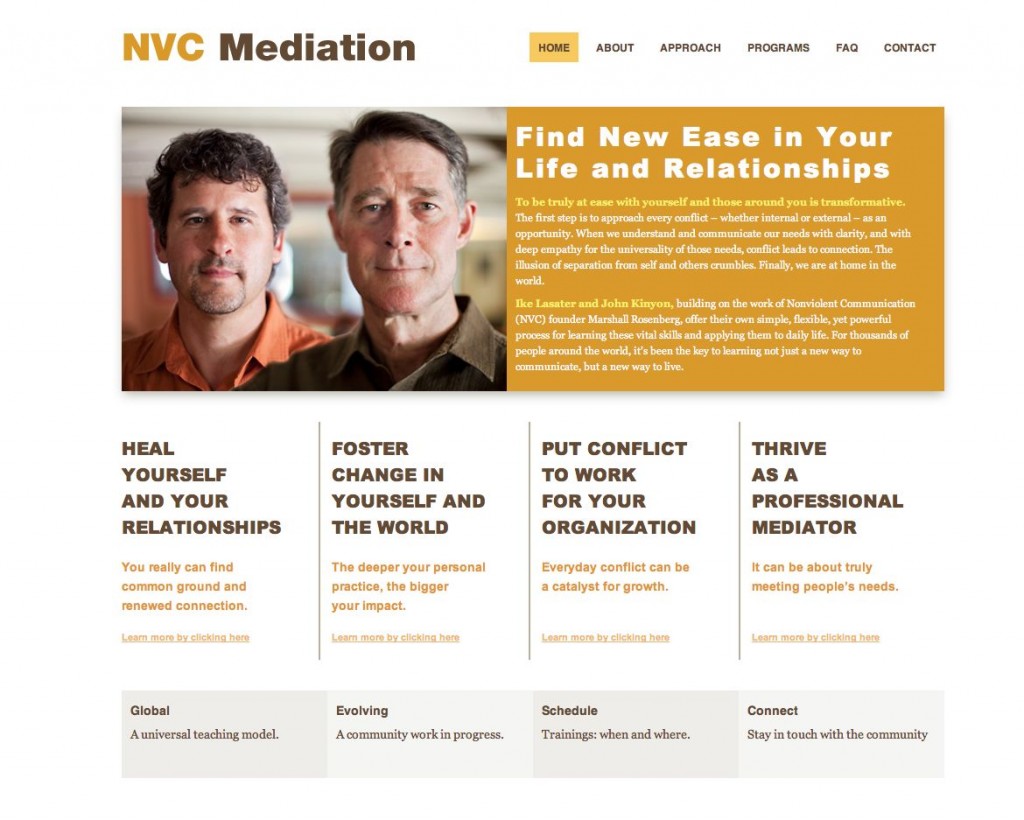 Nonviolent Communication (NVC) is an empathy-based approach to interpersonal communication that teaches people to identify shared, universal needs and then collaboratively develop ways to meet them.
Here, two accomplished practitioners and teachers of NVC were launching a business based on their teaching techniques. I developed a copy platform that clarified new messaging for multiple audiences and then wrote the copy for a new website.
———
Northeast Sustainable Energy Association | magazine editing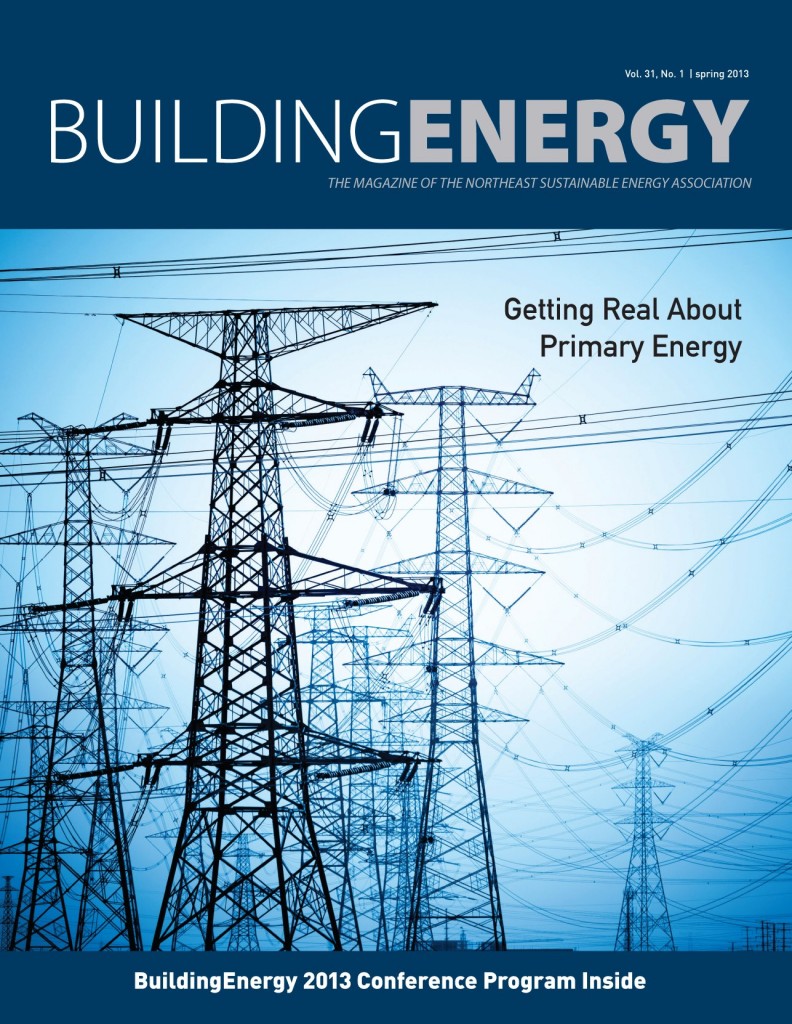 NESEA's mission is to advance the adoption of sustainable energy practices in the built environment by connecting industry professionals to ideas and to each other.
One measure of this nonprofit's success: some of the most sustainable buildings in the world can be found in western Massachusetts, their home base (and mine). 
Twice a year for four years, I edited NESEA's member magazine. I brought a high and consistent editorial standard to a publication written by an ever-changing roster of contributing architects, engineers, and builders.
One NESEA member kindly gave me this LinkedIn recommendation: "By far the best editor I have ever worked with. Since Laura got involved, the magazine is far better than it ever was before."
———
Addiction Is the Symptom | book writing/editing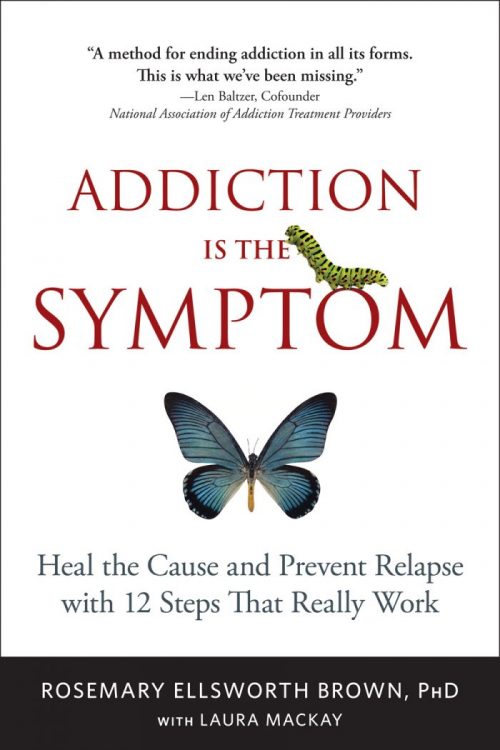 Addiction Is the Symptom describes Dr. Rosemary Ellsworth Brown's step-based process for recognizing and overcoming emotional dependency, including addiction.
Dr. Brown, a psychologist, wanted to introduce her step method to a wide audience. As her cowriter, I:
Merged and reworked her two previous, unpublished manuscripts
Helped her revisit the interpretation and execution of her step method
Determined primary messaging for the book jacket and marketing website
Wrote all marketing website content, including the library of 22 articles
Helped storyboard and produce a 5-minute video
The cover design is by book specialist Rebecca Neimark of Twenty-six Letters.
Live writing samples from the marketing website*:
* Note that the views aren't always my own, but rather Dr. Brown's.